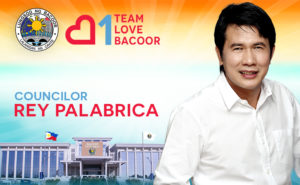 Councilor Rey Palabrica
Public Service Record
1994-1997           Elected Barangay Kagawad (Queens Row Central)
1997-2010           Elected Barangay Captain and  Elected Vice- President of ABC
2010-2013           Elected City Councilor and Majority Floor Leader
2013-2016           Elected as City Councilor (District II) and Elected President Pro Tempore
2016- Present      Elected as City Councilor (District II)
Chairman:
Committee Chairman on Environment and Natural Resources
Committee Chairman on Finance and Budget
Committee Chairman on Youth and Sports Development
Author and Sponsor of the most number of resolution and ordinances  Passed by the City of Council
Awarded by Alliance of Pinagbuklod ng Mamamayang Kabite as Most Outstanding  Councilor
PERFECT ATTENDANCE SA KONSEHO ! Since first term of office until present
RESPONSABLENG PANUNUNGKULAN … nakikinabang ang mamamayan !!!