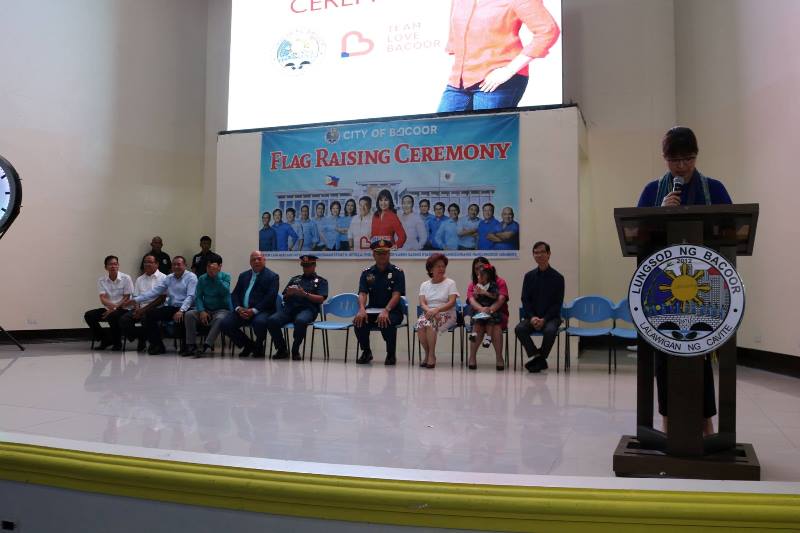 Bacoor City Mayor Lani Mercado Revilla gave an update on the status of the families affected by the fire in Barangay Tabing Dagat and expressed her gratitude to all those who immediately responded and readily gave assistance to them during this morning's flag raising ceremony at the Bacoor Government Center.
Some 262 families were affected by the fire, 185 of which are homeowners, 66 house sharers, and 11 house renters. At the moment, there are now only 120 families at the Daang Bukid Covered Court Evacuation Center; the other families have been taken in by their relatives.
The City Government is currently working on Temporary Transitional Homes for them which would be located in Salinas 2, and has offered financial assistance of P10,000 for each of the affected families. They have also been given dry ration food assistance.
The City Government of Bacoor would like to extend its thanks to all those who gave donations to the families: Office of Congressman Strike Revilla, DSWD IV-A, Office of Cavite Governor Remulla through PSWDO, LGU of Naic City, LGU of Rosario, Red Cross Cavite Chapter (through Mayor Jun Sagun), Bacoor Elementary School, St. Michael the Archangel Parish, Maynilad Baclaran Redemptorist Church, Cavite Community Riders, Gardenia Bakeries, Empire Cavite Pajareras, Honda Best Org Caviteños, MIMC Club Philippines, Scout Royale Brotherhood, Riders of Cavite, RG Community, Ratrat Riders Club, Maliksi 2 Bacoor Riders Club, Rotary Club Hiyas ng Bacoor, as well as countless private citizens who generously made donations to the affected families.
Mayor Lani also expressed her thanks to the Barangay Affairs Office headed by Alde Pagulayan, the League of Modern and Responsible Women, as well as the Bureau of Fire Protection.