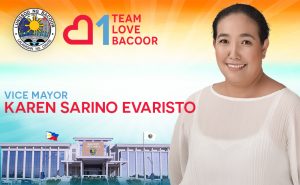 HON. CATHERINE SARINO EVARISTO
Born January 19, 1977 in San Roque, Naic, Cavite
2nd child of Mr. Danilo Sagarbarria Sarino and Iluminada M. Hintay
She graduated from Dela Salle University (1994-1997) at Dasmariñas, Cavite, Bachelor of Science in Secretarial Administration,          and Major in Computer Education.
She started "Public Service" when she was SK chairperson in Mabolo 1. She actively participated in the improvement and progress         of her fellow "kabataan" encouraging them to be involved in sports and environments awareness.
She became ABC President in 2008, and vice president in 2010 of the said association on her second term. She aimed to build             camaraderie among the 73 barangay captains, this helped them to build and progressive Bacoor.
ABC President Catherine S. Evaristo supported Mayor Strike in his goal of turning Bacoor into a City which will be beneficial to the        constituents and the city government as well.
As a city councilor, she also sponsored some ordinances and resolutions being approved in the Sanggunian Panlungsod.
And at present as the Vice Mayor of the City of Bacoor, together with Mayor Strike, continuously expanding the horizon of the              future Bacoor focused on its mission to provide quality services and its vision of having progressive and livable city which                      responsible Citizenry.
As the head of the OV Office, she aimed to build harmonious relationship and camaraderie amongst employees under her                     supervision by creating monthly activities that will help them realize social awareness and genuine public service.
Vice Mayor Catherine Evaristo together with the Sanggunian Panlungsod Councilors attended several Seminars, Workshop and               Training for them to be more effective vehicles for reformation and progress of the City of Bacoor.
JUNE 2013 
Seminar Workshop on Local Legislation for Development of the
Sanggunian  Panlungsod of the City of Bacoor
2nd floor Governor's Office, Rfc Mall, Bacoor City, Cavite.
JULY 2013
Seminar Workshop on Effective Local Legislation (SWELL)
Bernales Leadership & Research Institute
Rajah Park Hotel, Cebu City
AUGUST 2013
Barangay Assembly on Disaster Preparedness and Climate Change
Adaptation of the Liga ng mga Barangay-Cavite Chapter
Pamulinawen Hotel, San Nicolas, Ilocos Norte
AUGUST 2013
Newly Elected Officials (NEO) Program Orientation for Newly Minted
Local Legislators
Development Academy of the Philippines
Calamba Road, Sungay East, Tagaytay City
AUGUST 2013 
Training Workshop on Executive Legislative Agenda and Capacity
Development Formulation
Island Cove Hotel and Leisure Park
Kawit, Cavite
FEBRUARY 2014
Workshop on the Formulation of Intern- Government Social Administrative
Financial Environmental (S.A.F.E.) Plan Azalea Residences, Leonard Wood Loop,
Roxas, Baguio City