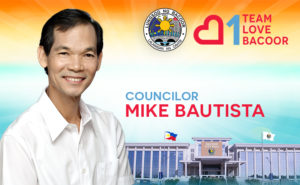 COUNCILOR MIGUEL N. BAUTISTA
NAME                MIGUEL N. BAUTISTA
BIRTHDAY         SEPTEMBER 28, 1958
BIRTH PLACE     BACOOR CITY
ADDRESS          299 SAN NICOLAS 2 BACOOR CITY
HEIGHT             5"6
WEIGHT            120 LBS
WIFE                 EDITA L. BAUTISTA
CHILDREN:
   CHRISTIAN L. BAUTISTA (COMPUTER TECHNICIAN / COMPUTER PROGRAMMER)
   MARITES B. NUNEZ (BS INFORMATION TECHNOLOGY)
   MARICEL B. LLANITA (BS COMPUTER SCIENCE)
   SARAH L. BAUTISTA (BS EDUCATION MAJOR IN ENGLISH)
FATHER'S NAME
                                 BENJAMIN BAUTISTA (AUG 29, 1932)
MOTHER'S NAME
                                 ANASTACIA N. BAUTISTA (MAY 2, 1935)
EDUCATIONAL ATTAINMENT
                                GENERAL RADIO COMMUNICATION OPERATOR COURSE
PRESENT OCCUPATION 
                                 SANGGUNIANG PANLUNGSOD CITY COUNCILOR/ PASTOR
POLITICAL PARTY 
COMMITTEE CHAIRMANSHIP
                                COMMITTEE ON ETHICS AND GOOD GOVERNMENT
                                COMMITTEE ON APPOINTMENT AND GOVERNMENT REORGANIZATION
SEMINARS ATTENDED
1. SEMINARS WORKSHOP ON LOCAL LEGISLATION FOR DEVELOPMENT OF THE     SANGGUNIANG PANLUNGSOD, JUNE 27, 2013 2ND          FLOOR GOVERNOR'S EXTENSION OFFICE RFC MALL
2. SEMINARS WORKSHOP ON EFFECTIVE LOCAL LEGISLATION (SWELL) JULY 17-19, 201 CEBU CITY
3. NEWLY ELECTED OFFICIAL (NEO) PROGRAM- ORIENTATION FOR NEWLY MINTED LOCAL LEGISLATOR AUGUST 2, 2013                           TAGAYTAY  CITY
4. TRAINING WORKSHOP ON EXECUTIVE LEGISLATIVE AGENDA AND CAPACITY DEVELOPMENT FORMULATION                                         -ISLAND  COVE HOTEL AND LEISURE PARK
5.   ISO 9001; 2008 EXECUTIVE COURSE- JULY 28, 2014 TAGAYTAY CITY
6. FIRST CAVITE LOCAL LEGISLATOR SUMMIT- SEMINAR ON THE FOLLOWING TOPIC:
NEW DIRECTIONS IN LOCAL GOVERNANCE
EVIDENCE BASED LEGISLATION
SOCIAL MARKETING FOR LOCAL LEGISLATION
LGU AND ASEAN INTEGRATION
AUGUST 19, 2015, TAAL VISTA HOTEL TAGAYTAY CITY
7. PCL ANNUAL CONVENTION 2007 OF THE PHILIPPINES COUNCILORS LEAGUE, CAVITE CHAPTER- DECEMBER 03-05, 2007 –                    LEGENDA  SUITES, UPPER CUBI, SBMA ZAMBALES.
8. TRAINING WORKSHOP ON GOVERNMENT PROCUREMENT REFORM ACT (GPRA) AND ITS REVISED IRR-DECEMBER 01-03, 2009-              CLUB  PARADISE DIMAKYA ISLAND, CORON, PALAWAN, PHILIPPINES