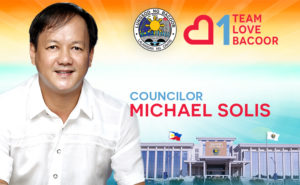 Hon. AVELINO B. SOLIS was elected Barangay Captain of Habay I, Bacoor,Cavite in 1972 up to May 2007.
On 30 June 2007 he was first elected as Municipal Councilor and was re-elected on June 30,2010 in the Municipality of City of Bacoor, Cavite.
Committee Chairmanship
 Committee on Cooperative and Development and People's Participation
 Committee on Games and Amusement
Committee Vice- Chairmanship:
 Committee on Senior Citizen
Councilor Avelino Solis served as Barangay captain of Habay I for 34 years and as President of Association of Barangay Captain (ABC) and Treasurer of Liga ng mga Barangay- Cavite Chapter for 12 years.
During his terms as Barangay Captain of Habay I, he has done his best to improve the lives of citizens by providing public facilities such as modernized Barangay Hall, Health Centers, Artesian Well, concrete bridge and waiting shed well lighted streets and cemented roads and pathways. Also, he introduced to his constituents, a community that has all the earmarks of energetic, helpful living.
Moreover, he was also awarded as Most Outstanding Barangay Captain of the Philippines for the Year 1995.
From the time he was elected Municipal Councilor, he served his constituent with full integrity, outmost sincerity, loyalty and honesty. And presently as City Councilor, he is more inspired to continue serving with unending support to the people of Bacoor.