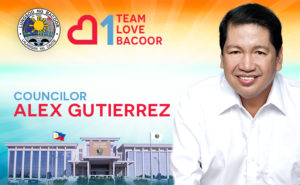 COUNCILOR ALEJANDRO F. GUTIERREZ
also known as Ret. Gen. Alex Gutierrez, is a Councilor of the 1st District of the City of Bacoor.
He earned a masters' degree in Public Administration (Major: Law Enforcement/Security) from the Manuel L. Quezon University and a degree in Criminology from the Philippine College of Criminology. He entered the service in 1975 and retired compulsorily on April 2013, finishing his thirty-seven years in the police service. He received several medals, unit citations, commendations, plaques of appreciation and plaques of merit.
CHAIRMANSHIP:
Committee on Peace & Order & Public Safety
Committee on Human Rights
People's Law Enforcement Board (PLEB)
VICE-CHAIRMAN:
Committee on Cooperative Development
Committee on Persons with Disabilities (PWD) and Senior Citizens
MEMBER:
Committee on Youth Sports & Development