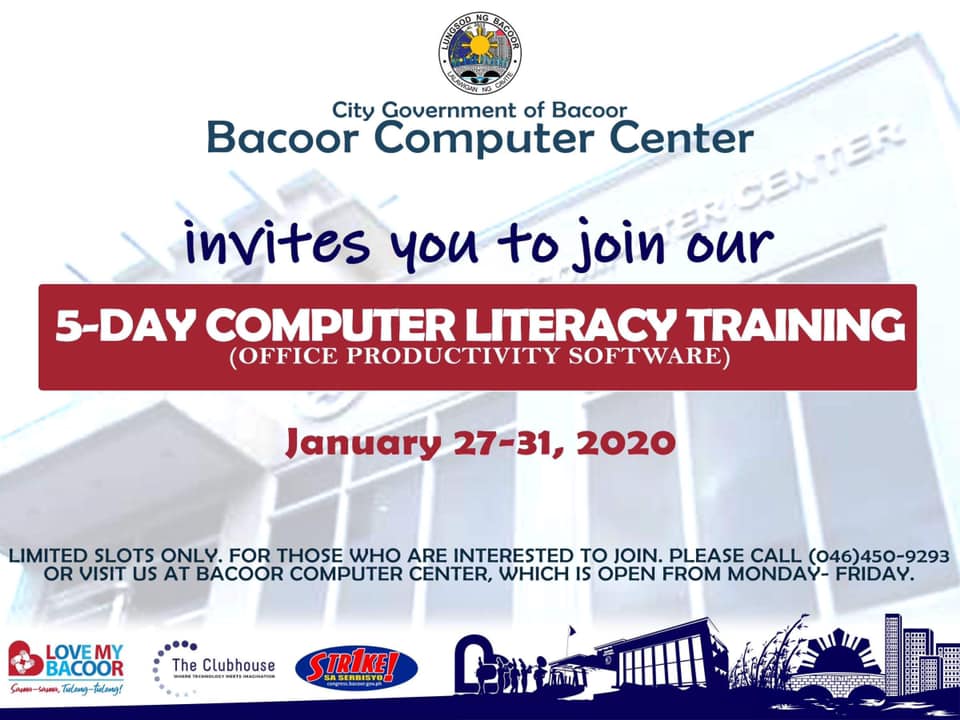 The FREE TRAINING includes:
* Computer Essentials / Desktop and File Management.
* Word Document Processing / Productivity Tools (MS Word)
* Electronic Spreadsheet (MS Excel)
* Multimedia Presentation (PowerPoint)
For those who are interested, you may register personally at Bacoor Computer Center from Monday to Friday. You may call us at (046) 450-9293 for more information regarding the training.
LIMITED SLOTS ONLY. So what are you waiting for? Hurry and reserve your slot now!
Schedule of training: January 27-31,2020, 8:00 am to 5:00 pm at the Bacoor Computer Center.
Requirements for registration:
1. 16 to 65 years old
2. Barangay Clearance
3. 2pcs 1×1 Picture
For barangay officials or employees, to register, just present your government issued IDs and accomplish the registration form available at the Bacoor Computer Center.
#BacoorComputerCenter #AlagangAteLani
#LoveMyBacooR
#CityGovernmentOfBacoor
#StrikeSaSerbisyo
#Tech4ED