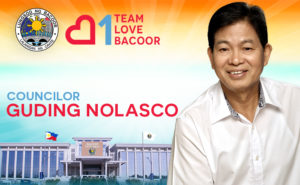 GAUDENCIO P. NOLASCO              
NAME                    GAUDENCIO P. NOLASCO
BIRTHDAY            JUNE 06, 1946
ADDRESS              B4 L7 DAO ST. PERPETUAL VILLAGE 6, MAMBOG 4 CITY OG BACOOR CAVITE
WIFE                     LUCIA G. NOLASCO
BORN                    DECEMBER 13, 1947
CHILDREN
BACHELOR OF SCIENCE IN MANAGEMENT AND INDUSTRIAL
ENGINEERING- MAPUA INSTITUTE OF TECHNOLOGY
INTRAMUROS, MANILA
BACHELOR OF SCIENCE IN CIVIL IN ENGINEERING
PERPETUAL HELP COLLEGE MAKATI
BACHELOR OF SCIENCE IN COMPUTER SCIENCE
AMA COMPUTER COLLEGE MAKATI
DOCTOR OF MEDICINE IN DENTISTRY
CENTRO ESCOLAR UNIVERSITY MANILA
BACHELOR OF SCIENCE IN PHARMACY
PERPETUAL HELP COLLEGE LAS PIÑAS
EDUCATIONAL ATTAINMENT
SECONDARY COURSE, CALOOCAN HIGH SCHOOL
PREVIOUS OCCUPATION
 BUSINESSMAN, PART TIME REAL ESTATE AGENT, SEAMAN
POSITION           
    CITY COUNCILOR- DISTRICT 2
JULY 2013- PRESENT
POLITICAL PARTY
COMMITTEE CHAIRMANSHIP
 COMMITTEE ON AGRICULTURE AND FOOD
 COMMITTEE ON COMMERCE, TRADE AND INDUSTRY
 COMMITTEE ON TOURISM AND BEAUTIFICATION
VICE- CHAIRMANSHIP
  COMMITTEE ON EXTERNAL LINKAGES
  COMMITTEE ON YOUTH AND SPORTS DEVELOPMENT
MEMBERSHIP
 COMMITTEE ON PEACE AND PUBLIC SAFETY
FATHER'S NAME
 TEODORO SAMAS NOLASCO (DECEASED)
MOTHER'S NAME
  ROSALIA FELIZARDO PENSOTES (DECEASED)
SEMINARS ATTENDED
SEMINARS WORKSHOP ON LOCAL LEGISLATION FOR  DEVELOPMENT OF THE SANGGUNIANG PANGLUNGSOD
2ND FLOOR GOVERNOR'S EXT. OFFICE RFC MALL -JUNE 27, 20132
SEMINARS WORKSHOP ON EFFECTIVE LOCAL LEGISLATION CEBU CITY  -JULY 17-19, 2013
NEWLY ELECTED OFFICIALS (NEO) PROGRAM ORIENTATION FOR NEWLY MINTED LOCAL LEGISLATOR
TAGAYTAY CITY -AUGUST 2, 2013
TRAINING WORKSHOP ON EXECUTIVE LEGISLATIVE AGENDA AND CAPACITY DEVELOPMENT FORMULATION ISLAND COVE AND        LEISURE PARK
ACCOMPLISHMENT
1972-1976 ELECTED AS BARANGAY CAPTAIN OF MAMBOG MAKING THE YOUNGEST BRGY CAPTAIN TOWN AT THE AGE OF 26.
1989-1999 AFTER 13 YEARS, HE RETIRED FROM SEAFARING SERVICES AND WORKED AS THE FIELD MANAGER OF ADDAS                              DEVELOPMENT CORPORATION IN HELPING FOR THE IMPROVEMENT OF ADDAS IV AND ADDAS IV-A IN MAMBOG IV.
1997-2002 APPOINTED AS THE BARANGAY KAGAWAD OF MAMBOG IV FOR 5 YEARS.
2001 HE WAS AWARDED AS THE "FATHER OF THE YEAR" FOR 2001 BY IMUS INSTITUTE.
2002-2007 RE-ELECTED AS THE BARANGAY CAPTAIN OF MAMBOG IV. HE FACED NO OPPOSITION DURING HIS CAMPAIGN FOR                           THE POSITION, BECAUSE OF HIS ACCOMPLISHMENT IN THE SOCIETY.